Beard Products in Woodway, TX
When Woodway, Waco, and Beverly Hills, TX clients come to Champions Salon & Barber, they expect the highest caliber care. For us, that goes beyond the beard trimming and straight-razor shaves we provide, and it extends to the grooming products we offer. We know how important at-home care is, which is why we bring you a full line of Champion beard products.
Our beard products are designed to nourish your facial hair and skin, so your beard can grow to be strong and luxurious. Whether you prefer to keep it tight or are going for length, we'll make sure you've got everything you need to care for it.
Our Products
Are you oiling your beard regularly? Using beard conditioners to keep it nourished? Do you have a Beard Butter to help control you mustache and beard? Using these products isn't excessive—it's part of proper beard care and grooming! If you're not using these products, it's time you started.
Champion beard products span a full range of beard care essentials. Just like you trust us to help groom and shape your facial hair, we hope you'll choose our products for at-home care. Our staff is happy to recommend the right products for your specific beard, and we promise great results.
Beard Wash/Conditioners
Shave Lotions/Oils
After using Champion beard products, you're sure to notice a quality difference in your beard. Expect a sleeker, healthier feel, better shaping and contouring, and a beard that just feels better!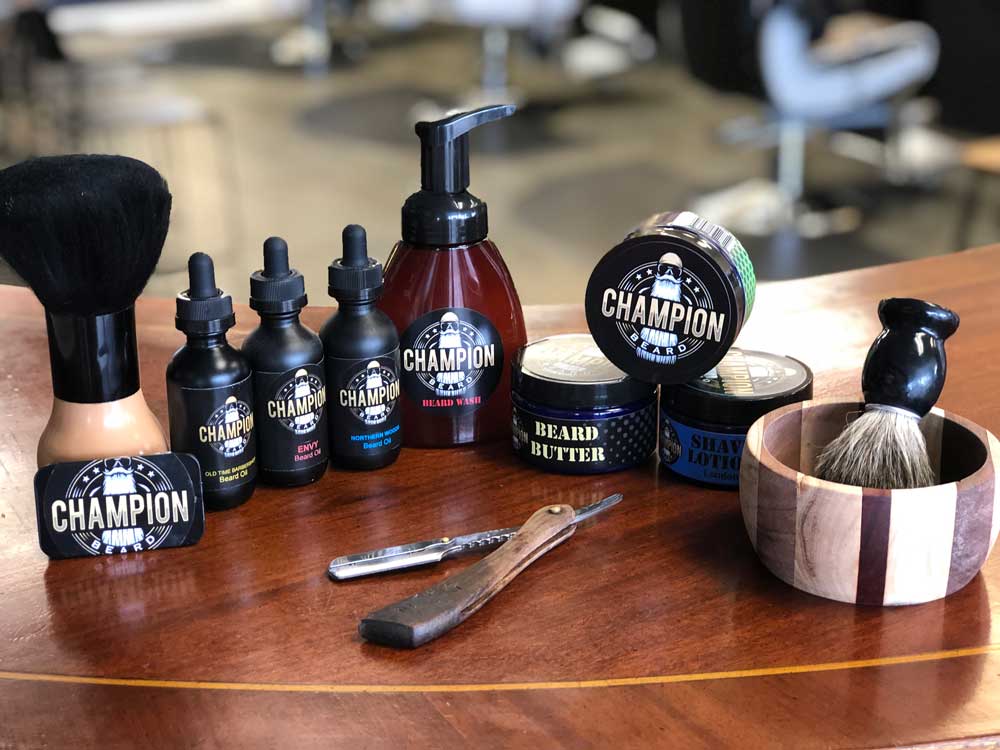 Give us a call if you are interested in having our products shipped to you!
Treat Yourself to the Best
Your beard deserves the highest caliber beard care products. You'll find them at Champions Salon & Barber. Let us provide you with everything you need to keep your facial hair well-conditioned, strong and full. Contact us or stop in today to see our full selection or call us at 254-855-9744 to learn more about Champion beard products.